Pulsarlube V - Electrochemical lubricator (Nitrogen charge) with 6 different adjustment possibilities and LCD display - Capacity 250 cc - Empty (pack of 10 pieces)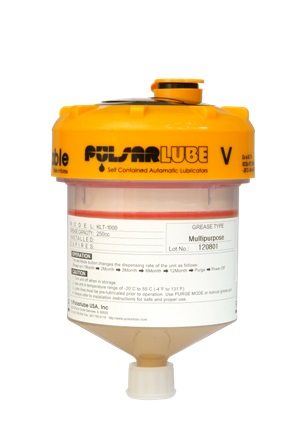 Pulsarlube V - Electrochemical lubricator (Nitrogen charge) with 6 different adjustment possibilities and LCD display - Capacity 250 cc - Empty
Disponibilità:
disponibile
Prezzo:
Prezzo standard:
680.00 €
Offerta speciale:
340.00 €
Specifiche tecniche
Pulsarlube V - Electrochemical lubricator (Nitrogen charge) with 6 different adjustment possibilities and LCD display - Capacity 250 cc - Empty
The Pulsarlube V automatic lubricator works thanks to an electrochemical reaction that generates an inert gas (Nitrogen - N2) through the use of an electrolyte and electric energy.
It is designed to allow users to easily set the dispensing rate using a microprocessor and an LCD display.
The Pulsarlube V controls the electrolytic reaction for the best delivery rate and delivers a precise amount of grease at the set speed.
It is suitable for industrial applications.
This product is an intrinsically safe product, certified as Ex ia IIC T4 for use in hazardous areas.
Technical specifications
Description
Type of gas
Nitrogen(N2) gas
Gas generation method
Electrochemical
Capacity of the greaser
250 ml
Maximum operating pressure
5kgf/cm² (70psi)
Operating temperature range
-20°C ~ 55°C ( -4°F~131°F)
Settlement periods of
1, 3, 6, 9 e 12 months
Grease size

60ml : Ø77mm(3.03") x 92mm (3.62")

120ml : Ø77mm(3.03") x112mm (4.41")

240ml : Ø77mm(3.03") x157mm (6.18")

Certifications / IP codes
Ex ia IIC T4 / IP68
Remote installation
Up to 1m (3ft) with a pre-filled lubricant line of 8mm (5/16 ") O.D.
Thread size for installation
3/8 "Male BSPT (NPT Converter Available)