Pulsarlube V - Electrochemical lubricator (Nitrogen charge) with 6 different adjustment possibilities and LCD display - Capacity 125 cc - With food grease (pack of 10 pieces)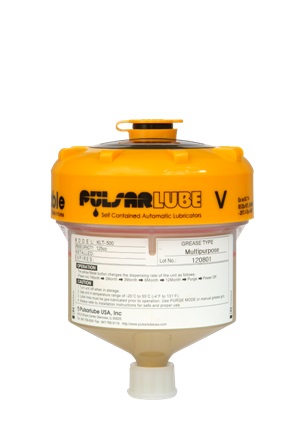 Pulsarlube V - Electrochemical lubricator (Nitrogen charge) with 6 different adjustment possibilities and LCD display - Capacity 125 cc - With food grease
Disponibilità:
disponibile
Prezzo:
Prezzo standard:
690.00 €
Offerta speciale:
345.00 €
Specifiche tecniche
Pulsarlube V - Electrochemical lubricator (Nitrogen charge) with 6 different adjustment possibilities and LCD display - Capacity 125 cc - With food grease
The Pulsarlube V automatic lubricator works thanks to an electrochemical reaction that generates an inert gas (Nitrogen - N2) through the use of an electrolyte and electric energy.
It is designed to allow users to easily set the dispensing rate using a microprocessor and an LCD display.
The Pulsarlube V controls the electrolytic reaction for the best delivery rate and delivers a precise amount of grease at the set speed.
It is suitable for industrial applications.
This product is an intrinsically safe product, certified as Ex ia IIC T4 for use in hazardous areas.
Technical specifications
Description
Type of gas
Nitrogen(N2) gas
Gas generation method
Electrochemical
Capacity of the greaser
125 ml
Maximum operating pressure
5kgf/cm² (70psi)
Operating temperature range
-20°C ~ 55°C ( -4°F~131°F)
Settlement periods of
1, 3, 6, 9 e 12 months
Grease size

60ml : Ø77mm(3.03") x 92mm (3.62")

120ml : Ø77mm(3.03") x112mm (4.41")

240ml : Ø77mm(3.03") x157mm (6.18")

Certifications / IP codes
Ex ia IIC T4 / IP68
Remote installation
Up to 1m (3ft) with a pre-filled lubricant line of 8mm (5/16 ") O.D.
Thread size for installation
3/8 "Male BSPT (NPT Converter Available)
Food Grade Grease
Product Description
- Product designed specifically for the lubrication of food processing machinery
- Good grease lubricates capable of providing excellent lubrication in all of these environment: Covering the extremes of temperatures from oven to freezer operations, as well as high level of contamination from water, steam and cleaning agents
Application
PL4 Grease provides superior film strength for slower moving applications under severe operating conditions such as water, steam, high temperature and load.
The excellent shear stability of this grease in combination with a unique tackiness agent provides a long lasting durable film of lubricant for bearings, bushings, open gears, chains and other exposed surfaces such as slides, rollers and cam followers. It can also be used as an antirust film and as a release agent for gaskets and seals.
- Conveyor Systems for coke, iron ore, and limestone
- General rotating equipment lubrication
- Conveyor bearings
- Equipment central lubrication systems
- Anti-friction roller bearings under heavy or shock loading
- Linkages and slides
- Joints
Advantages
- Long Service Life : Excellent resistance to Water/Steam washout
- Longer lasting film allows less lubricant usage and extended re-greasing intervals
- Unique thickener combination resists oil bleed problems often encountered using conventional food grade lubricants
- Excellent stability helps retard softening of grease during high shear mechanical action often experienced in high