Pulsarlube MSP - Electromechanical lubricator for synchronized operation, with external power supply - 250 cc capacity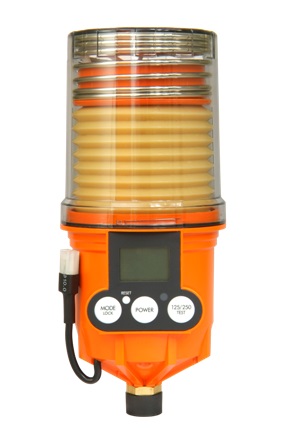 Pulsarlube MSP - Electromechanical lubricator for synchronized operation, with external power supply - 250 cc capacity
Disponibilità:
disponibile
Prezzo:
Prezzo standard:
343.20 €
Offerta speciale:
171.60 €
Specifiche tecniche
The Pulsarlube MSP automatic electromechanical lubricator-grease gun is designed to work in sync with the equipment on which it is installed.
As long as the equipment is operating, the Pulsarlube MSP delivers the predetermined amount of lubricant to prevent any loss or waste of lubricant.
Unlike the MS Pulsarlube, this product works synchronously with the machine, and has an external power supply. The power supply is connected to the power supply of the machine or to the PLC.
It is not necessary to replace the battery in the unit for up to 5 years, but the grease cartridge can still be replaced after the completion of each lubrication cycle.
Benefits
Ideal for applications where lubrication will only take place when the machine is running and where a PLC feedback signal is required
Any over-lubrication problem can be prevented
Does not require replacement of the internal battery for up to 5 years (with external power supply)
Economical thanks to the use of replaceable grease cartridges and batteries (Service pack)
Selectable grease cartridges: 125, 250ml
Delivery periods available: 1, 2, 3, 6, 12 and a half (H) months
Technical data
Technical specifications
Description
Grease cartridges
60 ml, 125 ml, 250 ml, 500 ml (replaceable)
Maximum operating pressure
30 ~ 60kgf / cm² (425 ~ 850psi)
Operating temperature range
- 15 ° C ~ 60 ° C (5 ° F ~ 140 ° F)
- 40 ° C ~ 60 ° C (- 40 ° F ~ 140 ° F)
- with an optional Lithium Battery Pack
Power
DC 4.5V Battery Pack (replaceable)
Settable delivery periods
1, 2, 3, 6, 12 and a half months
Multi-line lubrication (in more points) td>
Available up to 8 points
Remote (remote) installation td>
up to 6 meters (20 ft) with a 6mm (1/4 "pre-filled line) )
Thread size for installation
3/8 "Male BSPT (NPT Converter Available)
Specifications for the power supply
Technical specifications th>
Description th> tr>
Input voltage
MSP VAC AC-DC Adapter: AC 100 ~ 220V, 0.5A / 50 ~ 60Hz

MSP VDC DC-DC Converter 12V ~ 24V
Output voltage
5.OV, 2A
Power-on lamp
Red LED
Dimensions
85mm (L) × 49mm (W) × 32mm (H)