Pulsarlube kit for the lubrication of several points remotely - Oil brush installation kit (OL500)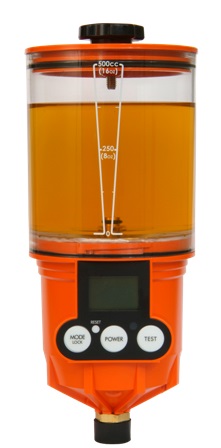 Pulsarlube kit for the lubrication of several points remotely - Oil brush installation kit (OL500)
Disponibilità:
disponibile
Prezzo:
Prezzo standard:
44.40 €
Offerta speciale:
22.20 €
Specifiche tecniche
Pulsarlube kit for the lubrication of several points remotely - Oil brush installation kit (OL500)
Pulsarlube OL500 b> p>
The oil lubricator "Pulsarlube OL500" consists of the main body with a self-priming vertical pump controlled by a microprocessor, a 500 cc oil tank, and a battery.
This product has the ability to accurately deliver small amounts of lubricant with selectable intermittent dispensing cycles.
The output volume is adjustable from 0.70 cc to 33.4 cc / day, equivalent to the service period of half a month for 24 months for the 500 cc oil tank.
It is available with up to 4 lubrication points using optional mounting kits.
NOTE: The Pulsarlube OL500 is a reusable unit, but the battery needs to be replaced when it completes each delivery period.
Benefits
It's a cost-effective solution to unreliable manual lubrication or other high-cost fully automated lubrication systems.
It is an oil lubrication system complete with optional accessories and remote installation kit.
Easy control of the operating status.
Easy setting of oil volume adjustment.
Easy to refill and anti-overturning oil tank.
Oil tank compatible with most synthetic oils and chemicals.
Technical data
Technical specifications
Description
Capacity
500ml (refillable)
Operating pressure
average 10kgf / cm² (depends on the viscosity of the oil)
Operating temperature range
- 15 ° C ~ 60 ° C (5 ° F ~ 140 ° F)
- 40 ° C ~ 60 ° C (- 40 ° F ~ 140 ° F)
- with an optional Lithium Battery Pack
Power
DC 4.5V Battery Pack (replaceable)
Oil viscosity
10 ~ 10,000 cSt @ 40 ° C
Settable delivery periods
1, 2, 4, 6, 12, 18, 24 and a half months
Dimensions
Ø94mm (3.7 ") × 230mm (9.0")
Weight
0.80kg (1.76 lbs)) (excluding oil weight)
Certifications / IP code
CE / IP54
Remote (remote) installation
up to 1.2 meters (4 ft) with a 6mm (1/4 ") pre-filled nylon line d>
Thread size for installation
3/8 "Male BSPT (NPT Converter Available)