Pulsarlube E lubricator - Electrochemical lubricator (Nitrogen charge) - Capacity 120 cc - With Multi-purpose grease with MOS2 (pack of 10 pieces)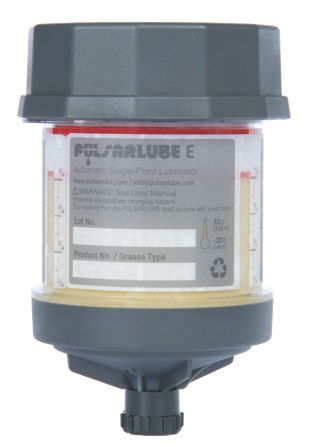 Pulsarlube E lubricator - Electrochemical lubricator (Nitrogen charge) - Capacity 120 cc - With Multi-purpose grease with MOS2
Disponibilità:
disponibile
Prezzo:
Prezzo standard:
590.40 €
Offerta speciale:
295.20 €
Specifiche tecniche
Pulsarlube E lubricator - Electrochemical lubricator (Nitrogen charge) - Capacity 120 cc - With Multi-purpose grease with MOS2
The Pulsarlube E is designed to offer superior advantages in terms of cost reduction and ease of use compared to other automatic single-point grease guns.
The Pulsarlube E has an innovative design that meets a wide variety of applications for industrial applications.
Its operation is based on the proven electrochemical reaction technology that generates an inert gas (Nitrogen - N2) through the use of an electrolyte and electricity.
The Pulsarlube E uses an intuitive selection mechanism and ensures simple and error-free operation.
This product is the right choice for a very low cost, reliability and safety of the product for most industrial applications that require automatic single-point grease guns.
Technical specifications
Description
Type of gas
Nitrogen(N2) gas
Gas generation method
Electrochemical
Capacity of the greaser
120 ml
Maximum operating pressure
5kgf/cm² (70psi)
Operating temperature range
-20°C ~ 55°C ( -4°F~131°F)
Settlement periods of
1, 3, 6, 9 e 12 months
Grease size

60ml : Ø77mm(3.03") x 92mm (3.62")

120ml : Ø77mm(3.03") x112mm (4.41")

240ml : Ø77mm(3.03") x157mm (6.18")

Certifications / IP codes
ATEX / CE / UL / IP68
Remote installation
Up to 1m (3ft) with a pre-filled lubricant line of 8mm (5/16 ") O.D.
Thread size for installation
1/4" Male NPT & BSPT compatible
Multi Purpose with MoS2 Grease
Product Description
- Contains 3% Molybdenum disulphide for protection against vibration and shock loading
- Good protection against rust and corrosion
- Reduces friction and water
- Maintains mobility under various conditions
- Synthetic, Gray
Application
- Shock loading mobile equipment used in mining, forestry or construction industries
- Conveyor Systems for coke, iron ore, and limestone
- Automatic grease lubricator
- Heavy mining equipment
Advantages
Operating temperature: -40°C - 170°C