Pulsarlube E lubricator - Electrochemical lubricator (Nitrogen charge) - Capacity 60 cc - With high temperature grease (pack of 10 pieces)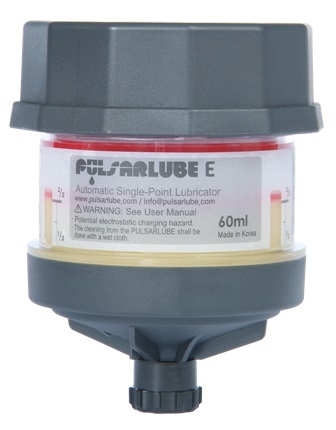 Pulsarlube E lubricator - Electrochemical lubricator (Nitrogen charge) - Capacity 60 cc - With high temperature grease
Disponibilità:
disponibile
Prezzo:
Prezzo standard:
480.00 €
Offerta speciale:
240.00 €
Specifiche tecniche
Pulsarlube E lubricator - Electrochemical lubricator (Nitrogen charge) - Capacity 60 cc - With high temperature grease
The Pulsarlube E is designed to offer superior advantages in terms of cost reduction and ease of use compared to other automatic single-point grease guns.
The Pulsarlube E has an innovative design that meets a wide variety of applications for industrial applications.
Its operation is based on the proven electrochemical reaction technology that generates an inert gas (Nitrogen - N2) through the use of an electrolyte and electricity.
The Pulsarlube E uses an intuitive selection mechanism and ensures simple and error-free operation.
This product is the right choice for a very low cost, reliability and safety of the product for most industrial applications that require automatic single-point grease guns.
Technical specifications
Description
Type of gas
Nitrogen(N2) gas
Gas generation method
Electrochemical
Capacity of the greaser
60 ml
Maximum operating pressure
5kgf/cm² (70psi)
Operating temperature range
-20°C ~ 55°C ( -4°F~131°F)
Settlement periods of
1, 3, 6, 9 e 12 months
Grease size

60ml : Ø77mm(3.03") x 92mm (3.62")

120ml : Ø77mm(3.03") x112mm (4.41")

240ml : Ø77mm(3.03") x157mm (6.18")

Certifications / IP codes
ATEX / CE / UL / IP68
Remote installation
Up to 1m (3ft) with a pre-filled lubricant line of 8mm (5/16 ") O.D.
Thread size for installation
1/4" Male NPT & BSPT compatible
High temperature grease
Provides excellent low-temperature pumpability, very low starting and running torque and can reduce operating temperatures in the load zone of rolling element bearings.
Wide range of applications, Outstanding high and low temperature performance, Excellent resistance to rust, corrosion and oxidation.
Increased protection against water penetration.
Application
The PL5 high temperature grease is suitable for a centralized lubrication system for high temperature applications such as:
- Drive rollers in continuous casting plant
- Conveyor rollers in continuous casting furnace
- Ladle turret link bearing
- Heating furnaces, drying stove
- Mold elevating platform pivot bearing
- Rolling bearing of roll stand
- Opening gate of bulk material equipment
- Cooling bed conveyor system
- Rotary kiln
Advantages
- Long Service Life : Excellent shear stability, resistance to water/steam, and oxidation stability
- Excellent load carrying and anti-wear capacity : Extended equipment life
- Enhanced rust and corrosion protection
- Excellent pumpability
- Operating temperature: -40°C ~ 180°C