Pulsarlube E lubricator - Electrochemical lubricator (Nitrogen charge) - 60 cc capacity - Heavy duty grease (pack of 10 pieces)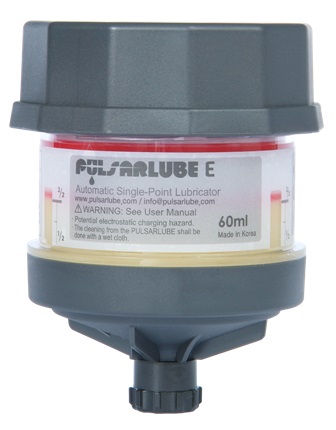 Pulsarlube E lubricator - Electrochemical lubricator (Nitrogen charge) - 60 cc capacity - Heavy duty grease
Disponibilità:
disponibile
Prezzo:
Prezzo standard:
491.40 €
Offerta speciale:
245.70 €
Specifiche tecniche
Pulsarlube E lubricator - Electrochemical lubricator (Nitrogen charge) - 60 cc capacity - Heavy duty grease
The Pulsarlube E is designed to offer superior advantages in terms of cost reduction and ease of use compared to other automatic single-point grease guns.
The Pulsarlube E has an innovative design that meets a wide variety of applications for industrial applications.
Its operation is based on the proven electrochemical reaction technology that generates an inert gas (Nitrogen - N2) through the use of an electrolyte and electricity.
The Pulsarlube E uses an intuitive selection mechanism and ensures simple and error-free operation.
This product is the right choice for a very low cost, reliability and safety of the product for most industrial applications that require automatic single-point grease guns.
Technical specifications
Description
Type of gas
Nitrogen(N2) gas
Gas generation method
Electrochemical
Capacity of the greaser
60 ml
Maximum operating pressure
5kgf/cm² (70psi)
Operating temperature range
-20°C ~ 55°C ( -4°F~131°F)
Settlement periods of
1, 3, 6, 9 e 12 months
Grease size

60ml : Ø77mm(3.03") x 92mm (3.62")

120ml : Ø77mm(3.03") x112mm (4.41")

240ml : Ø77mm(3.03") x157mm (6.18")

Certifications / IP codes
ATEX / CE / UL / IP68
Remote installation
Up to 1m (3ft) with a pre-filled lubricant line of 8mm (5/16 ") O.D.
Thread size for installation
1/4" Male NPT & BSPT compatible
PL2 heavy duty grease
PL2 grease is based on thickened lithium complex grease and is designed for heavy-duty applications in harsh environments.
It is compounded and blended to withstand heavy loads and load shocks commonly found in primary metalworking industries, construction companies, and mining industries.
PL2 grease is mixed with high viscosity base fluids for exceptional strength film and is added with molybdenum disulfide for increased load capacity and anti-wear performance.
In addition it contains a unique blend of extreme pressure, anti-wear, and rust and oxidation inhibitors as well as functional polymers for better adhesion in wet environments and better performance at high temperatures. As it is complex lithium thickened grease, PL2 has a high drip point which also provides excellent protection in high temperature environments. Applications PL2 grease is a heavy duty grease that works effectively in simple and anti-friction bearings. It has excellent adhesion and cohesion characteristics and is highly resistant to mechanical cutting. Typical applications Ball bearings / rollers, bushings, slides, screws and general lubrication where heavy loads and low speeds are found. Among the industries that most commonly require heavy-duty grease are: steel mills, mining industries, cement / building processing, paper mills and paper processing in general.
Advantages
Excellent EP ("extreme pressure") and anti-wear properties against extreme shock loads.
Minimizes bearing wear and extends equipment life.
It has excellent friction reduction characteristics, allows easier start up, reduces heat and energy needed for the plants, leading to longer bearing life.
Provides excellent protection against rust and corrosion, extending bearing life and performance.
It has excellent mechanical stability, ensuring long-term protection.
• It is easily pumped in both single-point lubricators and centralized lubrication systems.