Unioeler SBK lubricators - Pressure spring lubricators - Model SBK 50.1 - Adjustable flow with threaded pin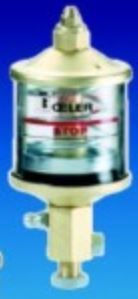 Unioeler SBK lubricators - Pressure spring lubricators - Model SBK 50.1 - Adjustable flow with threaded pin
Disponibilità:
disponibile
Prezzo:
0.00 €
Specifiche tecniche
Unioeler SBK lubricators - Pressure spring lubricators - Model SBK 50.1 - Adjustable flow with threaded pin

Brass with pickling treatment.

Automatic lubricator with pressure spring, supply of the lubricant H 1 DIN 71 412 e pressure control valve.

- thickness of the container in "PLEXIGLAS."
- operate independently of his position -

easy oil level inspection.

Available with three different flow systems.

Suitable for all lubricating greases which solidify under pressure.

Maximum ambient temperature: about. 60 ° C.

Thanks to continuous lubrication of ball bearings installed in machines or equipment, this automatic lubricator decreases your personal and costs due to delay.

Also the risk of bearing damage it is reduced substantially.