Unioeler Lubricator ELO - 3000 - Automatic lubricator with electric pump - Plexiglas - Capacity 3000 ml - G 1/2 "connection - 24 V AC / DC 42 V AC, 48 V AC 110 V AC / 50 Hz / 60 Hz 230 V AC / 50 Hz / 60 Hz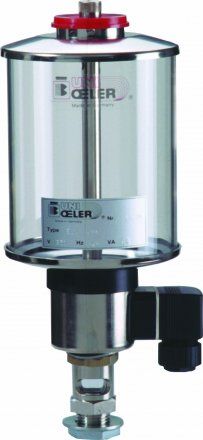 Unioeler Lubricator ELO - 3000 - Automatic lubricator with electric pump - Plexiglas - Capacity 3000 ml - G 1/2 "connection - 24 V AC / DC 42 V AC, 48 V AC 110 V AC / 50 Hz / 60 Hz 230 V AC / 50 Hz / 60 Hz
Disponibilità:
disponibile
Prezzo:
350.00 €
Specifiche tecniche
Unioeler Lubricator ELO - 3000 - Automatic lubricator with electric pump - Plexiglas - Capacity 3000 ml - G 1/2 "connection - 24 V AC / DC 42 V AC, 48 V AC 110 V AC / 50 Hz / 60 Hz 230 V AC / 50 Hz / 60 Hz

nickel-plated brass

For automatic dosing of the drop of oil or other liquids.

Large bowl for filling with dust protection cover

- cylinder of natural glass.

With the electric system of lubricant drip UNI all liquids can be dosed drip, provided they are not mixed with solid materials or have thickened due to the heat.

Must be paid attention to compatibility with the »PLEXIGLAS« and Nitrile N as sealing material. (Possibly use natural glass e seals of the head.)

The power supply is made directly from the main switch of the your car or through others available circuits.

The possibilities of the lubricant dispenser obtained from continuous operation to the infinitely variable operation of selection of time through our new timings type 1078/1 (timer e pulse generator).