Lubricator ATS-ELECTROLUBE JUMBO LUBER - Electrochemical greaser (Nitrogen charge) - Capacity 475 cc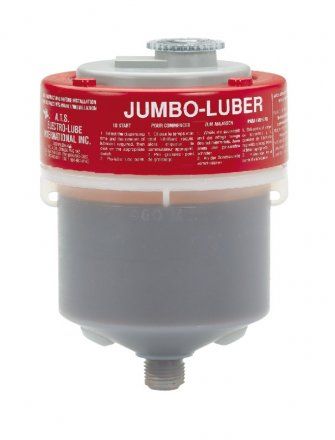 Lubricator ATS-ELECTROLUBE JUMBO LUBER - Electrochemical greaser (Nitrogen charge) - Capacity 475 cc
Disponibilità:
disponibile
Prezzo:
300.00 €
Specifiche tecniche
Lubricator ATS-ELECTROLUBE JUMBO LUBER - Electrochemical greaser (Nitrogen charge) - Capacity 475 cc
Grease nipple ATS-ELECTROLUBE JUMBO LUBER - Electrochemical grease gun (Nitrogen charge) - Capacity 475 cc The ELECTRO-LUBER series was developed in 1982. ELECTRO-LUBER is an automatic single-point lubricator that uses an electrochemical reactor cell that converts electrical energy into a safe, inert nitrogen gas. The gas is contained in a hermetically sealed bellows-gas chamber. ATS Electro-Lube was the first company to use this self-ligating automatic lubrication technology and set industry standards. When the gas is produced, the internal pressure accumulates in the bellows and is applied against the orange piston. The piston then pushes the lubricant out of the cylinder and into the lubrication point. The unit can empty from 15 days to a year, depending on the setting of the simple user-programmable DIP switch. This selection can be changed or deactivated at any time. The Electro-Luber series can be filled with any lubricant and used in practically any work environment. Our lubricants are intrinsically safe and approved for all explosive areas. They are also certified by MSHA for use in mines. They can be filled with food-safe lubricant and run underwater up to 30 '(10 m) deep! Our units are simple to use, effective and drastically reduce the risk of bearing failure ensuring that your machines are continuously lubricated with the right amount of lubricant at the right time. ATS's electro-lubricators have saved time and money for over 3 decades!
Specifications:

- Maximum 50 psi - From -40 ° C to + 55 ° C operating temperature - Waterproof up to 10m - Remote mounting and remote control options - ATEX / UL certificate (all areas at risk of explosion) - Use with ANY lubricant - Available in 60, 125, 250 or 475 cc - Return frequency of less than 0.001%
Features and specifications:

- Autonomous, autonomous, single-point self-lubricator - Continuous lubrication with safe, inert nitrogen gas. The continuous lubrication of the bearings prevents the intrusion of foreign bodies, slows down the oxidation, helps to dissipate the heat and ensures a constant supply of fresh lubricant - Available in 4 sizes: 2, 4, 8 or 16 ounces. (60, 125, 250 or 475 cc) - Pressures up to 50psi - Approved for all explosive environments. Intrinsically safe certificate for Class 1, Groups A, B, C, D, E, F and G. Also certified by MSHA and Energy, Mines Canada for use in mining. Also available ATEX certified units. - Multiple settings to be cleared from 15 days to 1 year - Suitable for indoor / outdoor use - Can be mounted remotely at 3 '(1m) - Filled with any lubricant specified by the customer - Temperature range: -40F to + 132F ( from -40C to + 55C). - NOTE: low temperature lubricants must be used at low temperatures
Benefits:

- Precisely controlled lubrication - Virtually any lubricant can be used - Safe for use in all conditions, including food and hazardous areas. - Intrinsically safe ATEX / UL certification - Lubricant delivery is not influenced by ambient temperature or fluctuations (within lubricant and lubricant parameters) - Reduces workplace accidents by working safely in hazardous areas or hard to reach - Can be mounted remotely for safety and convenience - Extend equipment life reliably lubricating - Prevents lubricant contamination - Reduces maintenance costs - Eliminates downtime for costly repairs - Simple installation without tools - The original and most reliable units on the market!
IF YOU ARE INTERESTED IN OTHER MODELS OF ELECTRO-LUBE, CALL US OR SEND AN E-MAIL