Automatic lubrication control unit - QLS 311 - Code 07 12937 - 24 V DC - OIL - 18 grease points - VACUUM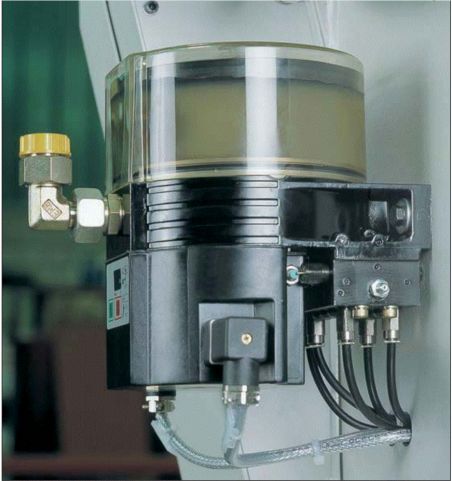 Automatic lubrication control unit - QLS 311 - Code 07 12937 - 24 V DC - OIL - 18 grease points - VACUUM
Disponibilità:
disponibile
Prezzo:
0.00 €
Specifiche tecniche
Automatic lubrication control unit - QLS 311 - Code 07 12937 - 24 V DC - OIL - 18 grease points - VACUUM

Control unit for automatic oiling:

Very compact computer system for automated oiling; lubricates up to 18 different points. It has of fittings with quick or threaded connection. Can be used in both fixed and mobile installations.

Technical specifications:

Simple controls with a control panel that adjusts the pump and the times with easy keyboard operations with LED display. In case of pump emptying a built-in signal promptly informs the operator. Very reliable and robust for use in extreme conditions, with temperatures varying from -25 ° C to +70 ° C.

Use of the system:

The control unit is very compact and contains all the functional components and the fat to be pumped. This unit also fits into very small areas, indoors or in niches.
The control unit also has a great one simplicity of installation and of connection through connectors.


Economic benefits: h1>

• Improve productivity • Very competitive price • Low consumption of lubricants • Constant lubrication • Lower maintenance costs • Practicality of use • Safe and reliable • Simple operation • Facilitates use and reconversion of implants

Examples of use:

• Power stations • Construction machinery • Mining and extraction plants • Automotive industry • Agriculture • Food industry • Beverage industry • Paper industry • Steel plants • Chemical industry • Crafts • Cranes, hoists, elevators • Port facilities • Wood processing • Textile industry • Metal processing industries • Repairs and revisions • Railways, subways and trams